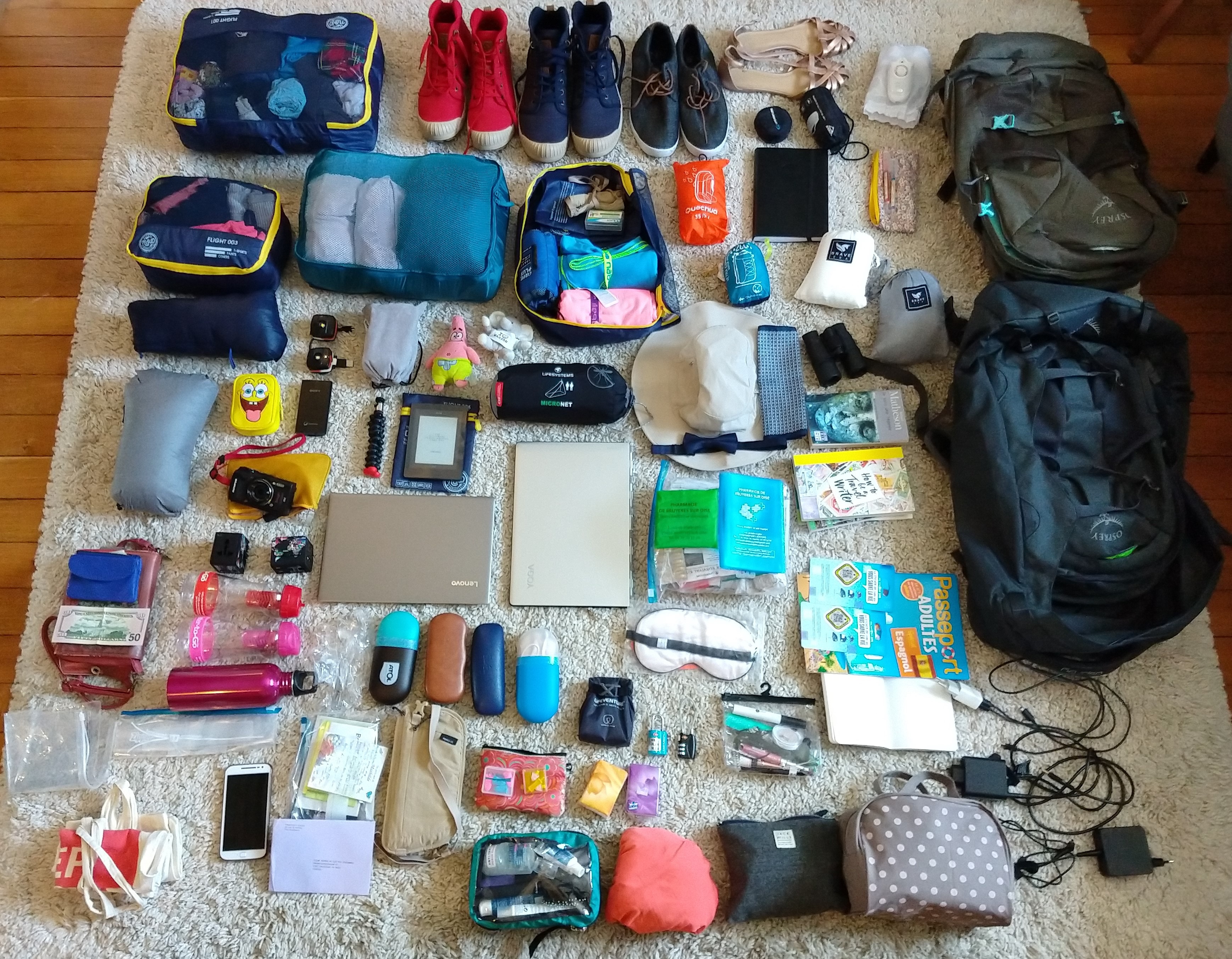 Which suitcase for a world tour?
Choosing our gears for the world tour was probably the most difficult part of the trip preparation. This is the first time we are gone for so long and we are very limited in terms of space and weight. Indeed, our suitcase is our home for the next year but we do not want to overload ourselves. Travelling light will help us get the most out of each destination and prevent lost and robbery. Ideally, we would travel with only one hand luggage each. In the end it was too difficult, so we compromised with one checked baggage and one hand luggage for the two of us.
Backpacks
We chose our two backpacks carefully. We have a 40L bag fitting as cabin luggage and a 70L. This larger one comes with a small 15L detachable bag. It is very convenient for the plane, the big bag goes in the hold and we keep the small bag with us. Our backpacks have laptop sleeves which was essential for us (see our post on our electronic gears).
For Nicolas: Osprey Farpoint 70L (about 18 kg full)
For Clémentine: Osprey Fairview 40L (about 10 kg full, but already too heavy for her)
We followed the advice of youtubers and bloggers and invested in packing cubes to organise our bags and clothes (see our post on our wardrobe). It is actually really helpful.
Gadgets
Lots of lactose-free snacks for Clémentine, a survival essential to always have with us!
4 water bottles: 2 with Water-to-Go filters, a thermos one and a foldable pouch as a back-up for treks. Buy the Water-to-Go bottles to be able to drink from any water source with the discount code VOYAGEDEMIEL (25%) on the Water-to-Go website. More promo codes are available on our tips and discounts page.
1 Sawyer filter which plugs directly to the taps. Very useful in housing or during long treks. You can use the code VOYAGECM18 for 20% off on Sawyer products.
Reducing plastic waste starts with saying no to water bottles!
A trip like ours is an incredible opportunity to discover the wonders of nature. Our greatest wish is for generations after us to be able to experience those as well. For several years, we have been trying to reduce the amount of waste we produce. One of the first source of waste and the easiest to eliminate is the plastic water bottles. We always keep our reusable bottles with us and fill them wherever we go. Even in town or at the airport, we never hesitate to ask bars or restaurants to give us a refill.
Unfortunately, we are travelling to many countries where it is not recommended to drink running water. Companies like Water-to-Go and Sawyer offer not only ecological but also economical alternatives we 100% support. We discussed filtering water with travel specialists during our vaccination sessions and we were told it can even be a healthier alternative than buying bottled water. Moreover, we have tested those ourselves during the past few months. We are offering you discounts to buy your filters for your next trips.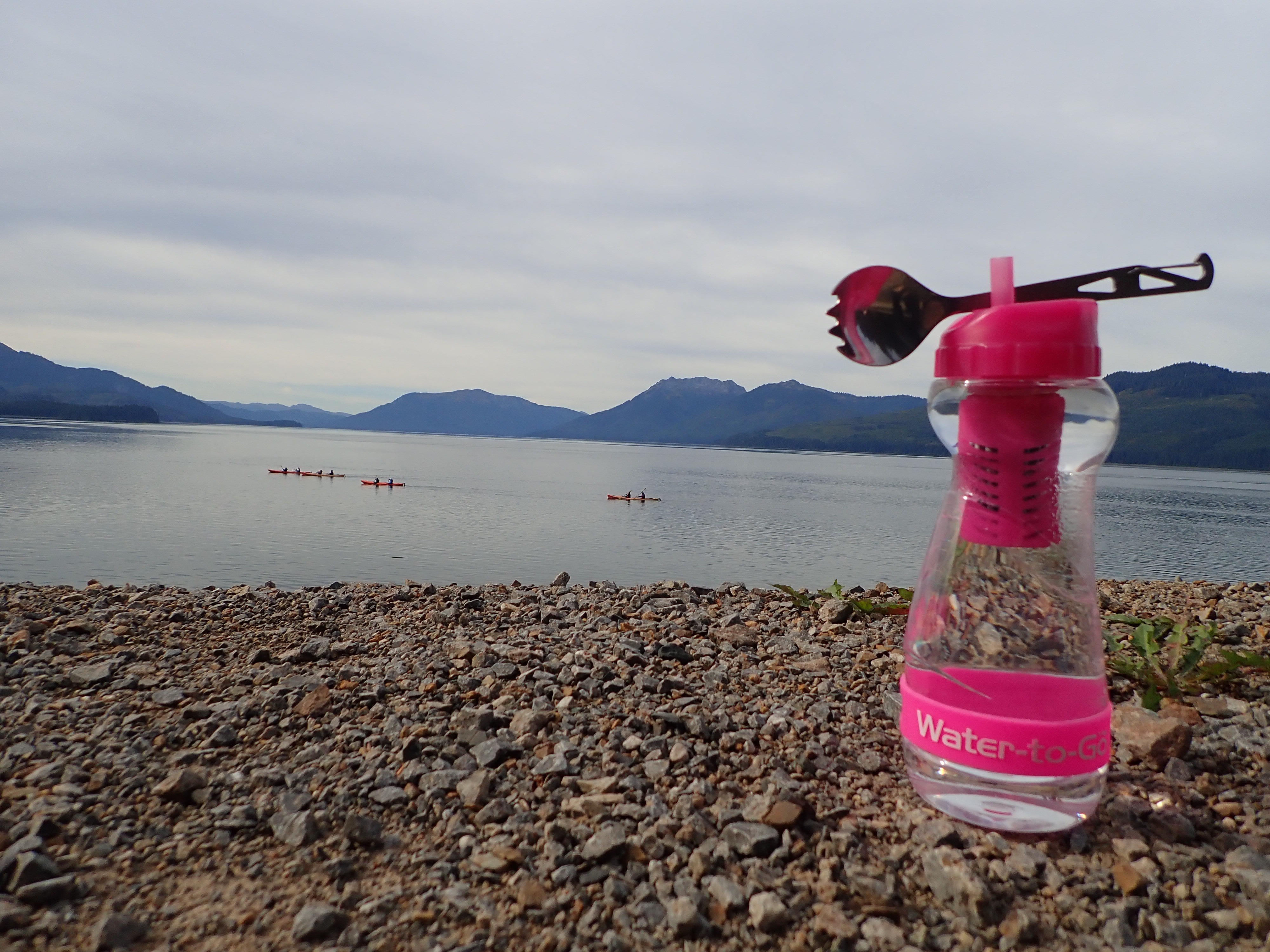 2 sporks (standing for fork and spoon) in titanium. Practical if you need cutlery and another gesture for the environment to avoid the use of plastic disposable ones. Available on the Lifeventure website with 15% discount thanks to our discount code 15CMBLV (more promo codes on our tips and discounts page).
3 padlocks (TSA approved) to secure our backpacks. One of the padlock is a very handy one from Pacsafe, it is coming with a retractable cable which we can use to lock all of our luggage to a train rack or a bed.
2 security pouches to wear around the neck and as a belt to store passports and money. Honestly we have not used those much because our Craghoppers clothes have secret pockets and even waterproof sealed to hold our passports.
2 bag covers/overpouches for our backpacks as a rain or dirt protection.
3 Waterproof touchscreen cases and 1 small drybag for the wet trips.
1 small foldable day pack. We started off with the 20L backpack Quechua Ultra Compact which is cheap and is tiny once folded. Unfortunately it only lasted us a few months. We now use the Craghoppers 16L CompressLite Backpack. It takes up more space but it is so much more comfortable to wear. Also, it makes a great travel pillow once folded. Moreover, we feel like we carry have a lot more inside, including our laptops.
1 Avalon monocular : we started off without binoculars and regretted it. We then got a compact binocular with a zoom good enough to observe nature. It is a world tour essential!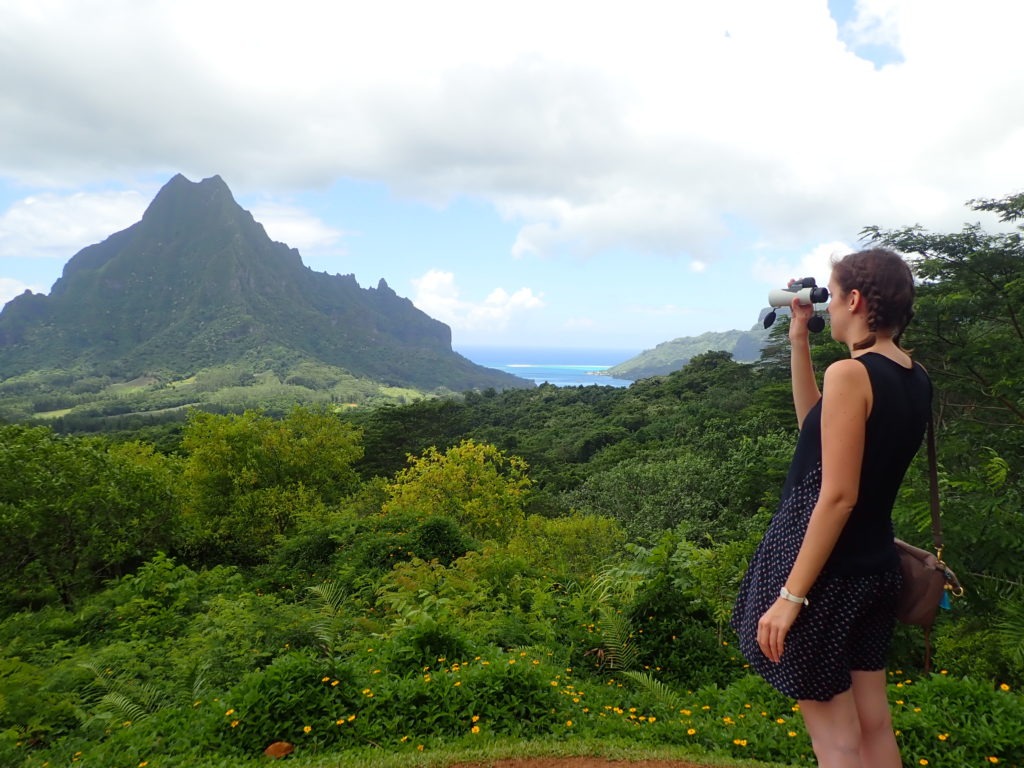 2 Braveera silk sheets (for sleeping bags). You can order these from the Braveera website and use the discount code VOYAGE10 for 10% discount (more promo codes are available on our tips and discounts page).
2 silk pillowcases and one silk eye mask (coming for free with the pillow cases) from the afordable brand LilySilk.
Silk properties
We brought with us silk sheets and pillowcases for these occasions where the bed linen is not provided. It is also for these dwellings where hygiene seems doubtful (and it was already really useful!). Silk has many properties: parasites and dirt do not cling (bye bye bed bugs and lice), it is light and compact, it dries fast, it is good for your skin and hair and finally it is very nice and comfortable.
Bonus: we were able to treat our Braveera sheets with Sawyer insect and clothing treatment. An extra protection for risky nights.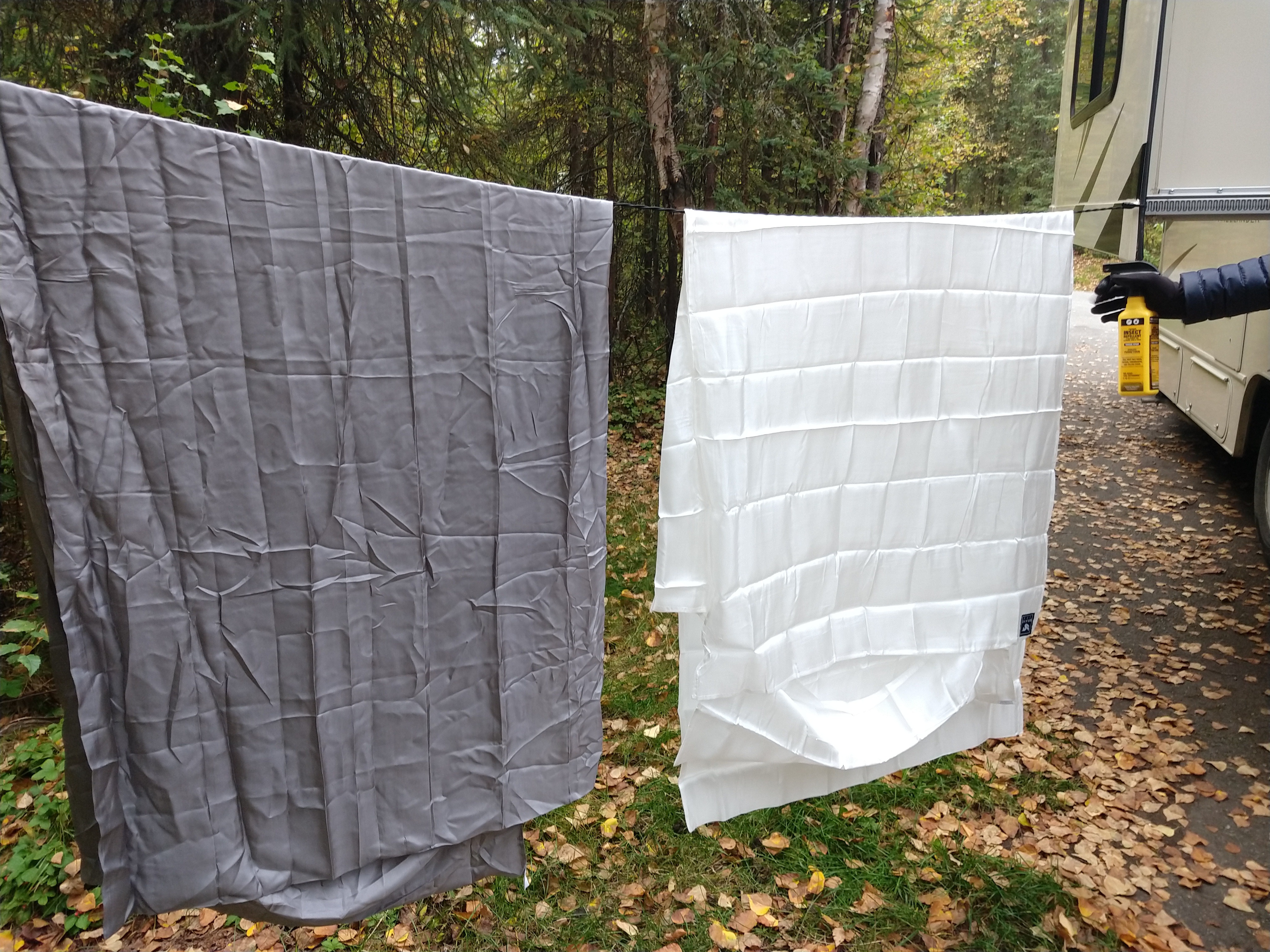 1 washing line from the brand Lifeventure. Available with 15% discount with our discount code 15CMBLV. Our most useful gadget! The line is super compact (it weighs only a few grams). Moreover, it is easy to set up with hooks or suction cups and doesn't require pegs (the clothes are pinched directly on the line).
1 tiny sewing kit with needles, safety pins and sewing threads.
1 Scrubba Wash Bag for our laundry. We bought it on the way because the quality of our manual laundry is highly questionable… It also help us save water and energy. We also use it with the compact fabric wash leaves.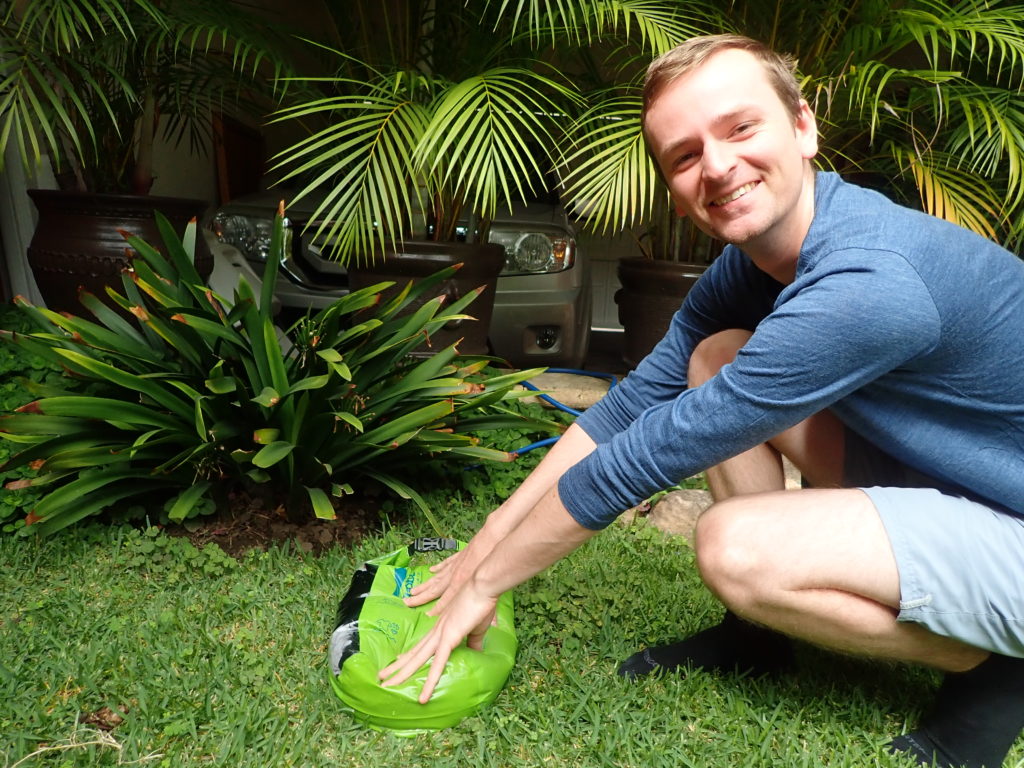 Kit for the plane
lip balm
1 inflatable neck pillow from Lifeventure available with 15% discount with our promo code 15CMBLV.
sweets or gums for the ears
anti-nausea medications for Clémentine
Health
3 pairs of high quality sunglasses: 1 for Nicolas and 2 for Clémentine (one with corrections and one without to wear with contact lenses).
1 pharmacy kit with many medications, bandages, antiseptic compresses, filter refills for our bottles and a kit to remove ticks (including a super small credit card shape clip) from Lifesystems.
1 compact and light weight mosquito net Micronet Lifesystems
Sunscreen index 50
Insect Repellent (we always ask local pharmacy what is the most efficient for the area)
Insect protection: treat your gears!
Insect repellent for travel gears was strongly recommended to us during our medical visits. Treating all of your equipment maximizes your protection against mosquitoes and ticks carrying diseases. We treated all of our clothes which were not from the Nosilife Craghoppers or Insect Shield brands. Our bed sheets, shoes (against ticks) and even our backpacks were also treated for an optimal protection.
We have tried two different method:
Unlike us, we strongly adviced you to treat your gears before your departure as it was complicated to do it on the road. The spray was easier to use but only effective for a duration of 6 weeks or 6 washes while the concentrate last 6 months.
Please note the impregnated clothes like the ones from the brand Nosilife Craghoppers or Insect Shield are effective throughout the life of the garment. It is also higlhy recommended to get a mosquito net which is already impregnated.
Hygiene
3 travel towels: for the practical side we recommend the super compact and cheap travel towels offered by many travel brands and for a more stylish option the Tesalate sand-free beautiful beach towel.
2 toiletry kits including all the basics: toothbrush, toothpaste, soap, shampoo bar, etc.
For Clémentine:
Contact lenses (essential for snorkeling or diving unless you have a prescription mask)
1 electrical wireless hair remover/epilator from the brand Silk Epil
1 menstrual cup, the Ziggy Cupp from Intimina and 3 period underwear. Amazing products for travellers with a womb, we wrote an article about it. It is also another gesture for the environment and to reduce waste as well as a choice of comfort and serenity.
 Stationery
1 Passion Planner (one of Clémentine's essential!) and use the promo code VOYAGE10 (valid until December 31, 2019) for 10% discount.
3 erasable pencils from Muji (Cléme's favourites) and a pencil case (handmade by a dear friend)
1 small notebook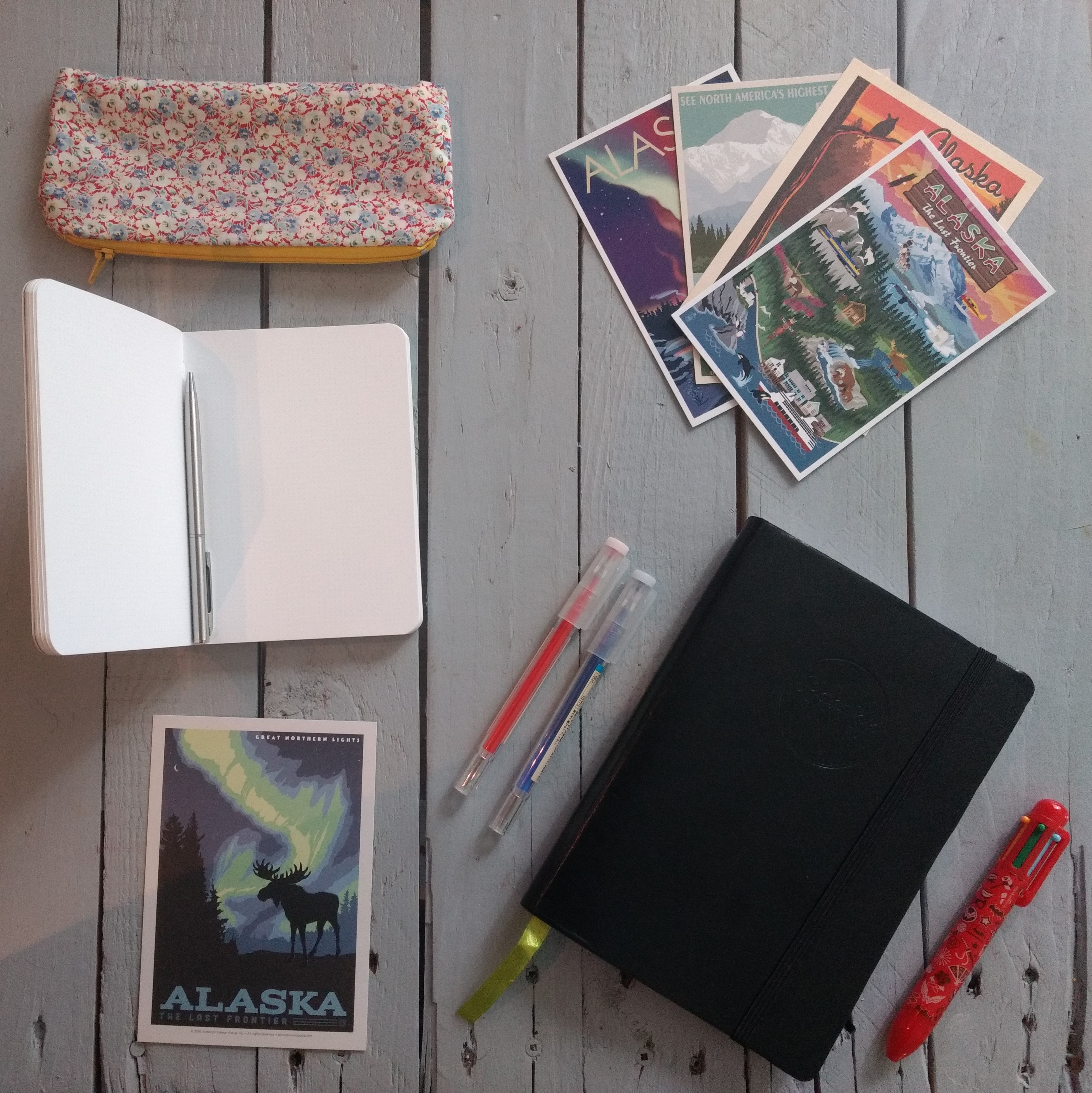 Travel paperwork
Passports
Identity photos (necessary for some border entries)
International certificates of vaccination
International driving licenses
Several credit/debit cards in case one does not work. We took Monzo cards (exclusively available in the UK) and a Revolut card. These cards are free to order and use, there are no charge for payments in other currencies and we can withdraw up to 200 € per month for free. Life savers for savy travellers!
The final items are freezer bags of all sizes! Super useful to: keep important papers dry, carry shoes, prevent toiletry items of running/draining, store food for picnics or to save leftovers.
The list of items in our wardrobe is available on our post world tour: wardrobe and for more information on our electronic devices you can read our post world tour packing list: electronic gears.